Wine is made from fermented grapes and is the most healthful and hygienic of beverages. It helps in managing the liver and it is rightly said, 'Where There Is No Wine There Is No Love'. Wine symbolizes class and status of the drinker and is often the pick on a romantic date. The wine has been produced from thousands of years and is mostly served with dinner. It is a popular and important beverage that accompanies and enhances a wide range of cuisines. With wines comes a little bit of intimidation and confusion as the world of wine is huge and there is always something new to explore. We have curated the list of 15 best wine brands in India that we hope will help you in getting to know about wines better.
1. Sula Rasa Shiraz
Sula Rasa Shiraz is best served at 16-degree Celsius and is produced from the estate vineyards of Sula. A complex wine, Sula Rasa is stored for 12 months in premium French oak barrels and then further matured in the bottle before release. To fully enjoy this special wine, it is recommended that the bottle is opened and poured out 30 minutes prior to being served slightly chilly. This wine is best enjoyed with barbeque dishes and cheese like gouda and parmesan.
Alcohol Content: 13%
Price: 750 ml - INR 1500 (approx.)
2. Myra Misfit
Myra Vineyards was founded by ex-banker, fine food, and beverage enthusiast, Ajay Shetty. Operating with its founder's belief that 'Wine Is All Heart', Myra Misfit is a limited edition bottle which is a blend of Classic Sauvignon and fruity Shiraz aged in French oak barrels for 18 months. The aroma comes with a strong berry whiff and has a spicy & fruity taste. This tastes best with pizza, pasta, and meat and is also India's first unfiltered wine.
Alcohol Content: 13%
Price: 750 ml - INR 1500 (approx.)
3. Fratelli SETTE
Relatively highly priced, Fratelli SETTE is a flavorsome and smooth wine with rich flavors of smoky coffee and chocolate. This is one of the most popular brands in India and tastes amazing with spicy Indian dishes. SETTE means 'Seven' in Italian which indicates that it is a dream that the seven brothers of Fratelli had. The top 1% of the grapes from the Fratelli's estate-owned vineyards in Akluj near Pune go into fulfilling this dream. SETTE is a barrel-aged red wine, matured in French oak for 14 months.
Alcohol Content: 13.5%
Price: 750 ml - INR 1600 (approx.)
4. Grover La Reserve
Manufactured in Nandi Hills of Bangalore, Grover La Reserve is aged for 16 months in new French oak. This is a well-balanced medium-bodied wine with complex layers and is best enjoyed with hard cheese and roasted red meat. It delivers a smoky aroma, with notes of bacon to the dark plum and roasted cherry flavors. The soft finish features some peppery notes and combines grace and majesty on the palate.
Alcohol Content: 13%
Price: 750 ml - INR 2150 (approx.)
5. YORK Arros
YORK Arros wine from Maharashtra's York winery, produced by a young winemaking team, is a limited production blend of the winery's best Shiraz (55%) and Cabernet Sauvignon (45%). The wine is aged 13 months in American and French oak, and another 12 months in the bottle before release. The sweet vanilla notes of the American oak dominate, along with bright fruits and Indian spices.
Alcohol Content: 14.3%
Price: 750 ml - INR 1100 (approx.)
---
Suggested Read:
16 Best Restaurants In Connaught Place For Every Kind Of Foodie
16 Best Restaurants In Delhi For The Ultimate Food Experience
Top 13 Romantic Restaurants In Delhi/NCR For A Perfect First Date
Best of Indian Street Food That Will Leave You Drooling
---
6. KRSMA Sangiovese
KRSMA Sangiovese comes from the vineyards of Hampi. The wine has a promising first whiff of juicy red fruit which then follows through with a hint of spiciness on the palate. A nice balance of fruit and acidity, leading to a good finish. This wine has a lot of cherries and clove notes.
Alcohol Content: 13.6%
Price: 750 ml - INR 1000 (approx.)
7. Charosa
Charosa wine is filled with rich coconut, vanilla, chocolate, and raspberry aromas and has a dark ruby red color. This medium-bodied wine is aged for a year and has a concentration of warm red fruit flavors. Charosa wine tastes best when paired with grilled red meat and sauteed vegetables.
Alcohol Content: 13%
Price: 750 ml - INR 1500 (approx.)
White Wines
8. J'NOON White
The J'NOON range of wines emerged when passion met inspiration. This is the first collaboration between Jean-Charles Boisset and Kapil Sekhri in the Indian wine industry where the wines are made on Indian soil and then are served all over the world. J'NOON is an artistic take on the Urdu word 'Junoon', meaning 'passion' and is a limited edition collection.
Alcohol Content: 13.5%
Price: 750 ml - INR 2500 (approx.)
9. Belstar Cult Prosecco
Prosecco is an Italian white wine and the new addition to the Prosecco portfolio is the Belstar Cult Prosecco which comes from the grand old house of Bisol. The sweetness varies from very dry to medium-sweet and has rich fruitiness which is balanced with a crisp acidity. Apart from the taste, the luxurious bottle will make sure that you are coming back for it.
Alcohol Content: 11%
Price: 750 ml - INR 1200 (approx.)
10. Crios Torrontes
Susana Balbo has been called the 'Evita of Wine' and the 'Queen of Torrontes'. Her Crios Torrontes which is made in Argentina is a floral and fruity drink with apple blossom, peach, orange citrus, and lime. This wine works with smoked meats and seafood.
Alcohol Content: 13.5%
Price: 750 ml - INR 1500 (approx.)
---
Suggested Read:
29 States & Their Food Palettes: Thalis Of India
Eggspectation And 9 More Hilarious Restaurant Names in Delhi
Must Visit Restaurants in Delhi/NCR For Pizza Lovers
Explore Capital's Most Happening And Vibrant Neighbourhood
---
11. Riesling
Hugel wines are made from grapes purchased from winegrowers in a dozen of the most favored localities around Riquewihr. Riesling white wine is dry and elite and is best paired with seafood and grilled or poached fish.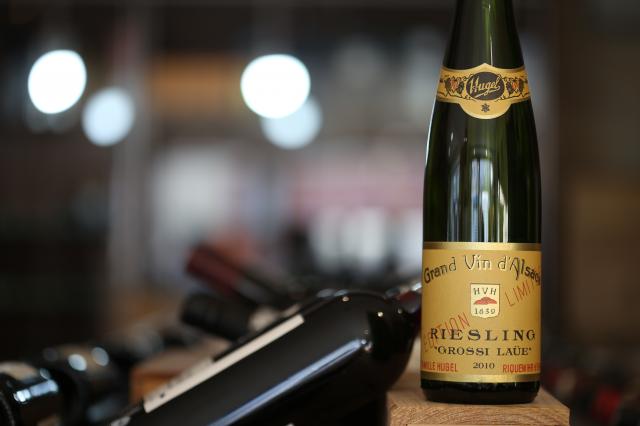 Alcohol Content: 12.2%
Price: 750 ml - INR 1500 (approx.)
12. Sula Chenin Blanc
Made in Sula vineyards, Sula Chenin Blanc is as sweet white wine and adapts to a variety of tastes. This wine works well with Indian dishes, salads, and shellfish. A notable acidity and hint of sweetness give this wine a balanced structure and refreshing character.
Alcohol Content: 12.5%
Price: 750 ml - INR 1000 (approx.)
Sparkling Wines
13. Zampa Soiree Brut
One of the best sparkling wines available in the county, Zampa Soiree Brut has floral aromas. Pale pink in color, this wine is light and creamy with fine beads and persistent mousse and red cherry and strawberry fruits that define the fruit character.
Alcohol Content: 12%
Price: 750 ml - INR 1200 (approx.)
14. Carpene Malvolti Prosecco
Antonio Carpene founded his winery in 1860, having been fascinated with Champagne. Carpene Malvolti Prosecco is a full flavored wine made in North East Italy. Fine and continuous bubbles, the wine is fruity and appealing with a floral and fresh fruit bouquet and a lemony finish. The wine works best with fish dishes.
Alcohol Content: 11%
Price: 750 ml - INR 1200 (approx.)
---
Suggested Read:
18 Iconic Restaurants in Noida to Delight Your Gastronomical Taste Buds
Binge on The Rich Foods of These Restaurants in Sector 29 Gurgaon
10 Best Malls In Bangalore For An Excellent Shopping Experience
magicpin Presents Chug-Logistics - The Real Battle Of Beers
---
15. Les Cordeliers
Like all other great Bordeaux wines, Les Cordeliers is full -bodied and well structured and is quite vivacious. This is a fruity, attractive wine, without excess acidity. It derives its remarkable freshness from the Semillon.
Alcohol Content: 11%
Price: 750 ml - INR 1300 (approx.)
These wines are a great accompaniment and can oomph up any occasion. It works great as a gift and can be paired with all kinds of food. If you have never tried wine in your life then now is the time!